News
Field Linguistics Workshop: Technical Workshop "Tips on how to make communicative online presentations"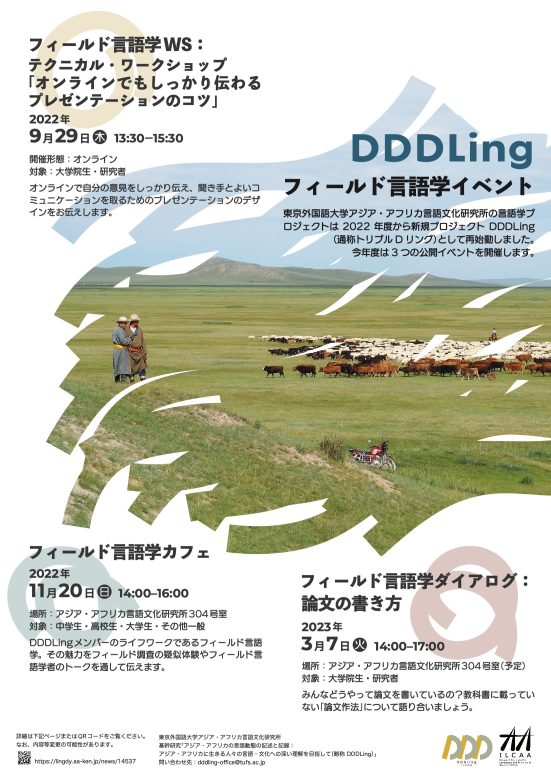 *This event has already been held.
Date/Time
29 September, 2022 (Thu.), 13:30–15:30
Venue
Online meeting via Zoom
Program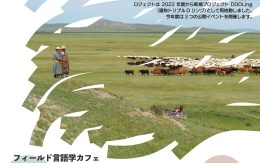 Venue opens at 13:15
Workshop: 13:00–15:00
Online icebreaker
How to make online presentations more communicative and comprehensible
Advantages and disadvantages of online presentations
What we should care about for listeners in online presentations
How to attract listeners' attention and interests
Entry Qualifications
Please see here (in Japanese).
Quota
20
Language
Japanese
Admission
Free
Pre-registration
Pre-registration is required. Please register here (in Japanese).
(Application will be closed as soon as the workshop reaches its capacity.)
Organized by
Core Project "Description and Documentation of Language Dynamics in Asia and Africa: Toward a More In-depth Understanding of the Languages and Cultures of People Living in Asia and Africa" (DDDLing)
General Inquiries
DDDLing Project Administrative Office
E-mail: dddling-office[at] tufs.ac.jp (Please replace [at] with @)
(Posted 29 August, 2022)
(Updated 1 September, 2022)
(Updated 6 March, 2023)
Field Linguistics Workshop: Technical Workshop "Tips on how to make communicative online presentations"