活動Activities
開催日:2012.10.25[木]- 10.28[日]
研究会・シンポジウム / 国際シンポジウム・ワークショップ
終了
シンポジウム:"Dynamics of Insubordination"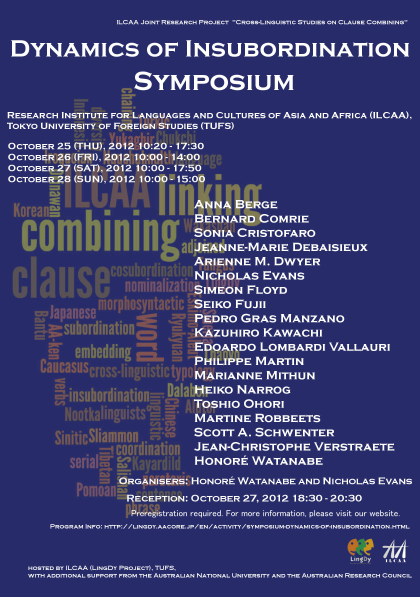 *本イベントは終了しました。
The phenomenon of insubordination (Evans 2007) has emerged in recent years has a fascinating point of intersection between many issues, across a wide range of languages. It can be defined diachronically as the recruitment of main clause structures from subordinate structures, or synchronically as the independent use of constructions exhibiting prima facie characteristics of subordinate clauses; the term 'suspended clauses' has also been used for the phenomenon (Ohori 1996, 2000).
Insubordination phenomena have begun turning up in many languages from around the world where they had not previously been reported, such as Tlingit and Sliammon Salish in the Pacific Northwest (Cable 2008, Watanabe 2009 ), thesis-length studies of insubordination in particular languages have begun appearing (e.g. Manzao 2011, Nuñez-Lagos 2005), with scholarly research particularly active among Romance linguists (Deulofeu 1988, 1999, Montolío 1999, Rodriguez Ramalle 2008),  historical arguments turning on insubordination have been employed to problems in establishing broader relationships of Altaic (Robbeets 2009), and studies of how discourse dependencies are established have become interested in the way interclausal signalling can be coerced to signal relations between larger discourse units (Mithun 2008).
With all this interest, we believe the time is ripe for a symposium dedicated to the topic of insubordination. This will bring together researchers interested in the phenomenon, in a wide range of languages and from a broad range of perspectives.
日時
2012年10月25日(木)–28日(日)
場所
東京外国語大学アジア・アフリカ言語文化研究所  3階303室
主催
東京外国語大学アジア・アフリカ言語文化研究所 言語ダイナミクス科学研究プロジェクト (LingDy)
協力
オーストラリア国立大学 (ANU)・オーストラリア研究評議会 (ARC)
シンポジウム企画者
渡辺己(東京外国語大学アジア・アフリカ言語文化研究所)
Nicholas EVANS (オーストラリア国立大学/AA研共同研究員)
発表者
Anna BERGE(アラスカ大学フェアバンクス校/AA研共同研究員)
Bernard COMRIE(マックス・プランク進化人類学研究所/カリフォルニア大学サンタバーバラ校/AA研共同研究員)
Sonia CRISTOFARO(パヴィア大学)
Jeanne-Marie DEBAISIEUX(パリ第三大学)
Arienne M. DWYER(カンザス大学/AA研共同研究員)
Nicholas EVANS(オーストラリア国立大学/AA研共同研究員)
Simeon FLOYD(マックス・プランク心理言語学研究所)
藤井 聖子(東京大学)
Pedro Gras MANZANO(バルセロナ大学/ルーヴェン・カトリック大学)
河内 一博(防衛大学校/AA研共同研究員)
Edoardo Lombardi VALLAURI(ローマ第三大学)
Philippe MARTIN(パリ第七大学)
Marianne MITHUN(カリフォルニア大学サンタバーバラ校/AA研共同研究員)
Heiko NARROG(東北大学)
大堀 壽夫 (東京大学)
Martine ROBBEETS(マインツ大学)
Scott A. SCHWENTER(オハイオ州立大学)
Jean-Christophe VERSTRAETE(ルーヴェン・カトリック大学)
渡辺己(東京外国語大学アジア・アフリカ言語文化研究所)
 参加申し込み
*申込は締め切りました。お申し込みありがとうございました。
参加を希望される方は、「シンポジウム申込み」と明記し、下記の内容をご記入のうえ、10月23日(火)までに(レセプションご参加希望の方は10月18日(木)までに)E-mailにて事務局宛にお申込みください。折り返しご連絡をさしあげます。どなたでもご参加いただけますが、お席に限りがございますので、できるだけ事前にご登録下さいますよう、お願いいたします。
氏名(名札用にローマ字表記も添えてください)
連絡先(ご所属、E-mailアドレス)
参加日程(全日程、25日のみ、など)
懇親会参加の有無(10月27日 18:30より東京外国語大学キャンパス内アゴラグローバル(1階喫茶スペース)にて開催予定。参加費 4,000円)
言語ダイナミクス科学研究プロジェクト(LingDy)事務局
lingdy-office[atmark]aacore.net
レセプション
10月27日(土)18:30–20:30 アゴラ1階 喫茶スペース
昼食について
25~26日は大学の食堂が営業しておりますが、27~28日は学食が閉店しておりますので、昼食はご持参いただくか、近隣のレストランをご利用ください。
プログラム
25 Oct.  (Thu.)
Opening
| | |
| --- | --- |
| 10:20–10:40 | ILCAA Director Hirohide KURIHARA; Toshihide NAKAYAMA; Honoré WATANABE |
Presentations
10:45–11:45
Nicholas EVANS (Australian National University / ILCAA Joint Researcher)

"The Dynamics of Insubordination: An Overview"

Abstract (7K)

11:45–12:35
Jean-Christophe VERSTRAETE (KU Leuven) and Sarah D'HERTEFELT (KU Leuven)

"Running in the Family: Patterns of Complement Insubordination in Germanic"

Abstract (111K)

12:35–13:35
Lunch
13:35–14:25
Edoardo LOMBARDI VALLAURI (Università Roma Tre)

"Insubordinated Conditionals in Spoken and Non-Spoken Italian"

Abstract (113K)

14:25–14:35
break
14:35–15:25
Pedro GRAS MANZANO (Universitat de Barcelona / KU Leuven)

"Revisiting the Functional Typology of Insubordination. Que-initial Sentences in Spanish"

Abstract (120K)

15:25–15:40
coffee break
15:40–16:30
Scott A. SCHWENTER (The Ohio State University)

"Independent si-Clauses in Spanish: Functions and Consequences for Insubordination"

Abstract (78K)

16:30–16:40
break
16:40–17:30
Jeanne-Marie DEBAISIEUX (Université Paris 3 Sorbonne Nouvelle) and Philippe MARTIN (Université Paris Diderot)

"Insubordination in French: Syntactic and Prosodic Aspects"

Abstract (165K)
26 Oct.  (Fri.)
Presentations
10:00–10:50
Simeon FLOYD (Max Planck Institute for Psycholinguistics)

"Insubordination in Interaction: the Cha'palaa Counter-assertive"

Abstract (114K)

10:50–11:00
break
11:00–11:50
Honoré WATANABE (ILCAA)

"Dependency and Insubordination in Sliammon Salish"

Abstract (428K)

11:50–12:50
Lunch
12:50–13:40
Anna BERGE (University of Alaska, Fairbanks / ILCAA Joint Researcher)

"Dependent Marking, Indirectness and Insubordination in Aleut"

Abstract (69K)

13:40–14:00
Discussion
27 Oct. (Sat.)
Presentations
10:00–10:50
Bernard COMRIE (Max Planck Institute for Evolutionary Anthropology / University of California, Santa Barbara / ILCAA Joint Researcher), Diana FORKER (University of Bamberg) and Zaira KHALILOVA (Max Planck Institute for Evolutionary Anthropology)

"Insubordination in the Tsezic Languages"

Abstract (105K)

10:50–11:00
break
11:00–11:50
Martine ROBBEETS (University of Mainz)

"Insubordination and the Establishment of Genealogical Relationship"

Abstract (76K)

11:50–12:50
Lunch
12:50–13:40
Arienne M. DWYER (University of Kansas / ILCAA Joint Researcher)

"Ordinary Insubordination as Transient Discourse"

Abstract (104K)

13:40–13:50
break
13:50–14:40
Toshio OHORI (The University of Tokyo)

"Toward a Taxonomy of Insubordination: Grammaticalization Paths and Discourse Motivations"

14:40–14:50
break
14:50–15:40
Seiko FUJII (The University of Tokyo)

"Insubordination of Conditional Constructions in Japanese"

15:40–16:00
coffee break
16:00–16:50
Heiko NARROG (Tohoku University)

"Insubordination in Japanese Diachronically"

Abstract (5K)

16:50–17:20
Discussion
Reception
| | |
| --- | --- |
| 18:30–20:30 | at Agora Global, TUFS |
28 Oct. (Sun.)
Presentations
10:00–10:50
Marianne MITHUN (University of California, Santa Barbara / ILCAA Joint Researcher)

"How Fascinating! Insubordinate Exclamations"

Abstract (112K)

10:50–11:00
break
11:00–11:50
Kazuhiro KAWACHI (National Defense Academy of Japan / ILCAA Joint Researcher)

"Pitch Accent Patterns and Meanings of Full and Insubordinated Conditional Constructions in Sidaama (Cushitic, Ethiopia)"

Abstract (115K)

11:50–13:00
Lunch
13:00–13:50
Sonia CRISTOFARO (Università di Pavia)

"Routes to Insubordination: A Typological Perspective"

Abstract (21K)

13:50–14:00
break
14:00–15:00
Final Discussion
シンポジウム:"Dynamics of Insubordination"