Activities
Date:2021.10.19[Tue]
Research Meetings and Symposia / LingDy Forum
Event already held
LingDy Forum: Webinar Series (17)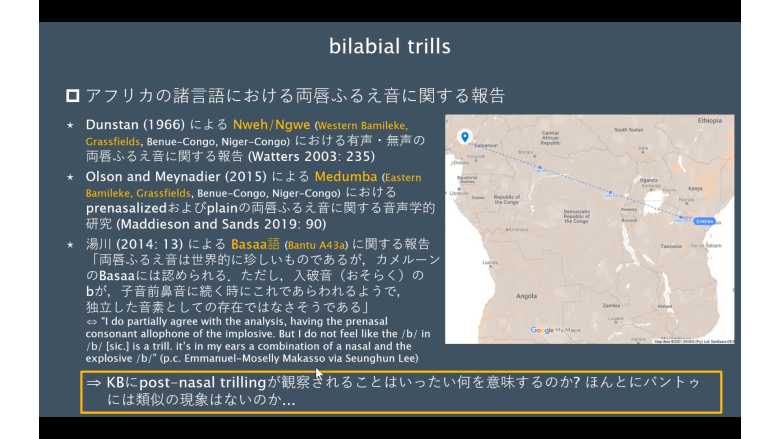 *This event has already been held.
Date/Time
19 October, 2021 (Tue.), 12:00–12:40
Venue
Online Meeting via Zoom
Program
12:00–12:40
Daisuke SHINAGAWA (ILCAA)
"Post-nasal trilling in Bantu" (Including discussion)
Video (28 min: in Japanese)
Language
Japanese
Admission
Free
Pre-registration
Pre-registration is required. Please fill out the application form below.
Jointly Organized by
Core Project "Linguistic Dynamics Science3 (LingDy3)", ILCAA, TUFS

JSPS-FWO Bilateral program "The Past and Present of Bantu Languages: Integrating Micro-Typology, Historical-Comparative Linguistics and Lexicography"
Tokyo African Linguistics Knot (TALK)
Application
If you would like to attend the forum, please fill out the application form below by 12:00 p.m., 18 October (Mon.). (Application will be closed as soon as the forum reaches its capacity.)
Zoom meeting invitation will be sent 1 hour prior to the start of the forum.
LingDy Forum: Webinar Series (17)