Activities
Date:2021.10.16[Sat]
Research Meetings and Symposia / Others
Event already held
Follow-up meeting on ILC 2019 (Jinghpaw) /The 3rd meeting on Kachin studies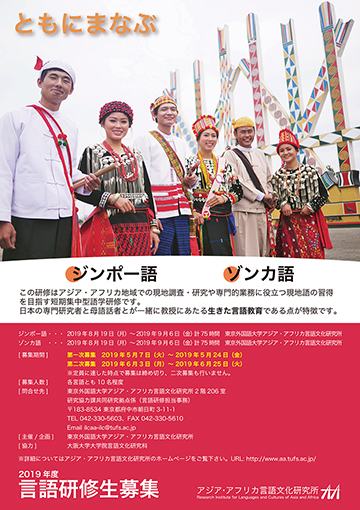 *This event has already been held.
Date/Time
16 October, 2021 (Sat.), 13:30–16:30
Venue
Online Meeting
Program
13:30–14:00
Makoto KATAOKA & Su Htoi San Ja
"Introduction of an orphanage near Yangon and our support for it"
14:00–14:30
Keisuke HUZIWARA (Teikyo University of Science)
"Tonal correspondence between Jingpho and Luish"
14:30–15:00
Toshio TOYAMA
"Rethinking Jinghpaw kinship terminology"
15:30–16:00
Keita KURABE (ILCAA)
"Recent trends in Jinghpaw learning materials"
16:00–16:30
Chihiro TAGUCHI (Nara Institute of Science and Technology/The University of Edinburgh)
"Text processing of open-access Jinghpaw data on Google Colaboratory"
Language
Japanese
Pre-registration
Pre-registration is required. Please email us by 12:30, 16 October (Sat.).
kurabe[at]aa.tufs.ac.jp
(Please replace [at] with @)
Jointly Organized by
ILCAA, TUFS
Core Project "Linguistic Dynamics Science3 (LingDy3)", ILCAA, TUFS
Follow-up meeting on ILC 2019 (Jinghpaw) /The 3rd meeting on Kachin studies