Activities
Date:2019.11.23[Sat]- 11.24[Sun]
Outreach Events / Others
Event already held
2019 Poster Session for the Institute-wide Research Program: Establishment of a New Cooperative Research System for Solving Contemporary Problems in Asia and Africa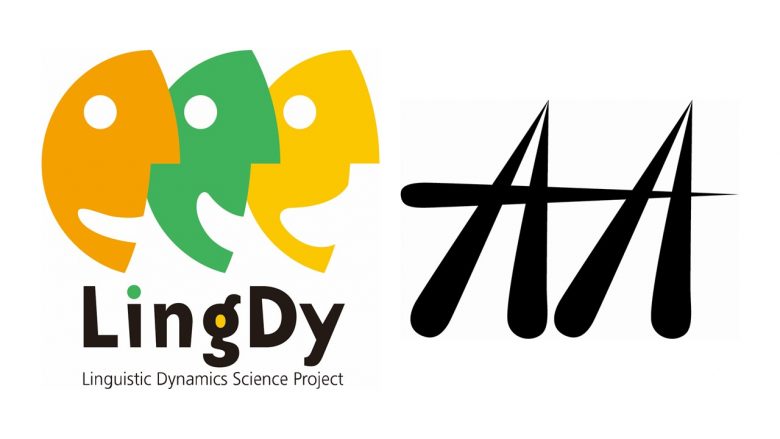 *This event has already been held.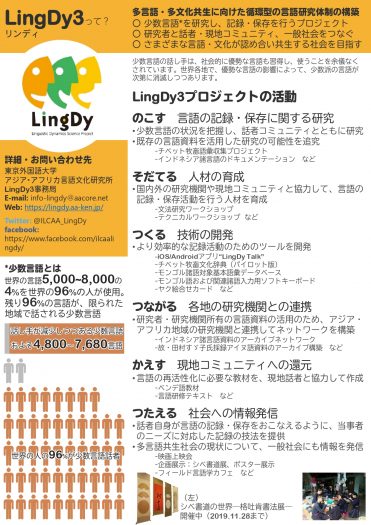 On this poster session, we introduced a part of our research project at ILCAA.
The LingDy3 project exhibited the poster for introducing our activities. In addition, Hayato Aoi, Tomoyo Otsuki, Norikazu Kogura, Keita Kurabe, Tokusu Kurebito, Asako Shiohara, Daisuke Shinagawa and Yasuhiro Yamakoshi, members of LingDy3 project exhibited each poster.
Date/Time
23 November, 2019 (Sat.), 10:00–17:00
24 November, 2019 (Sun.), 10:00–17:00
Venue
Room 303, 3F, ILCAA, TUFS
Program
Keita KURABE (ILCAA)
"Documentation, Archiving, and Revitalization of the Vanishing Oral Literature of the Kachin People"
Language
Japanese
Admission
Free
Pre-registration
No pre-registration is required.
Jointly Organized by
ILCAA Institute-wide Research Program: Establishment of a New Cooperative Research System for Solving Contemporary Problems in Asia and Africa
Core Project "Linguistic Dynamics Science3 (LingDy3)", ILCAA, TUFS
Information Resources Center (IRC), ILCAA, TUFS
JSPS's Core-to-Core Program: Establishment of a Research Network for Exploring the Linguistic Diversity and Linguistic Dynamism in Africa (ReNeLDA)
Perso-Indica
Grant-in-Aid for Early-Career Scientists "A study in the Mughal Persian translations of the Laghu-Yogavasishtha" (Principal Investigator: Satoshi OGURA (ILCAA), Grant Number 18K12519)
Grant-in-Aid for Scientific Research (B) "Urgent Research on Endangered Languages in Burma" (Principal Investigator: Keita KURABE (ILCAA) , Grant Number 17H04523)
For details, please see here (in Japanese).
2019 Poster Session for the Institute-wide Research Program: Establishment of a New Cooperative Research System for Solving Contemporary Problems in Asia and Africa