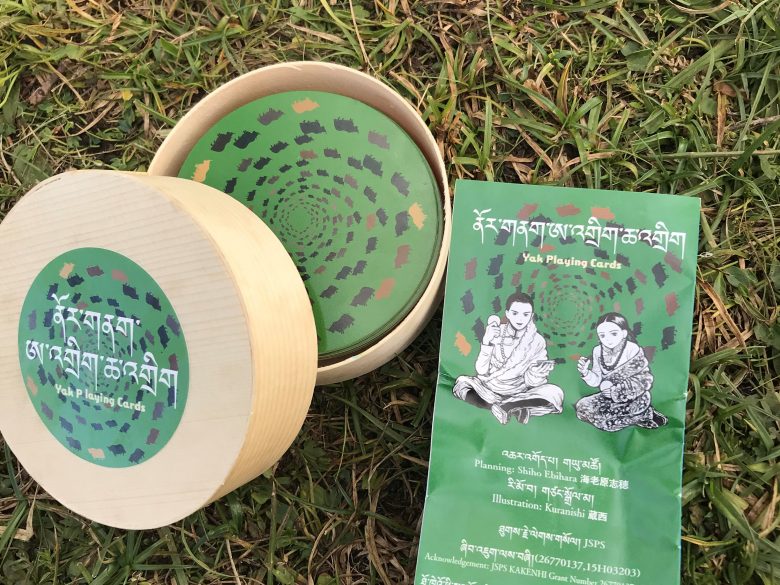 Shiho EBIHARA
A card game "Yak Playing Cards" was produced, as a part of activities to return the results of language documentation of Amdo Tibetan to local people (March 30, 2019).
Shiho EBIHARA, who planned this game, is an ex-member of LingDy project (LingDy2) from November 2013 to March 2016. She also participates in the two ILCAA joint research projects 'Assessing Micro Level Linkages between Humans, Livestock, and the Environment in Amdo, Tibet: The Outgrowth of the Compilation of an Ethnographic Dictionary of Nomadic Vocabulary (2014-2016), 'Study of Tibetan Pastoral Culture in Qinghai and its Change: Based on the Method of Documentary Linguistics (2017-2019) as a joint researcher, and is involved in editing ''Dictionary of Tibetan Pastoralism''. She has been engaged in descriptive research of Amdo Tibetan since 2003, and published ''A Grammar of Amdo Tibetan'' (Hitsuji Shobo, 2019).
Yak is an important animal that supports the pastoral culture in Tibet. Some Tibetan pastoral families have more than 100 yaks. Tibetans distinguish each yak according to horns, coat colors, and patterns of fur. This card game was designed to meet the needs of local people who want to hand down the traditional pastoral culture to the younger generation living in urban areas, and those who want to utilize language documentation of folk vocabulary to language and cultural education in Tibet.
Please also see here.