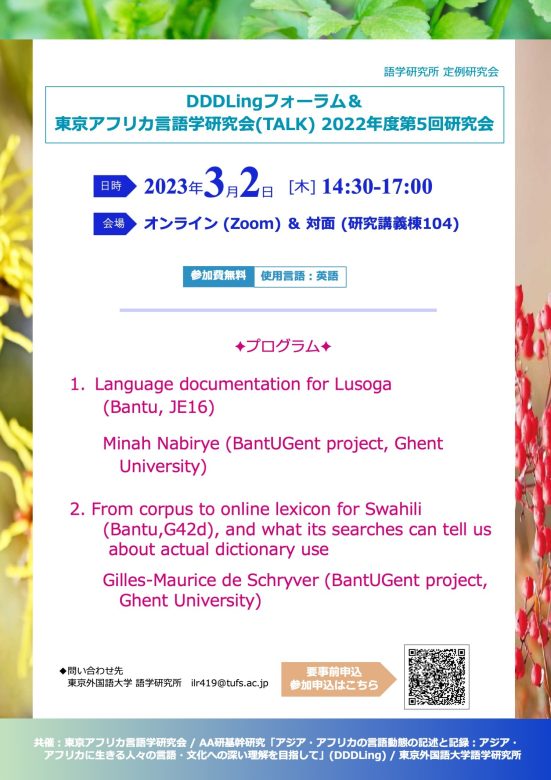 *This event has already been held.
Date/Time
2 March, 2023 (Thu.), 14:30–17:00 (JST)
Venue
Room 104 in Research and lecture building, Tokyo University of Foreign Studies/Online meeting via Zoom
Program
Minah Nabirye (BantUGent project, Ghent University)
"Language documentation for Lusoga (Bantu, JE16)"
Gilles-Maurice de Schryver (BantUGent project, Ghent University)
"From corpus to online lexicon for Swahili (Bantu, G42d), and what its searches can tell us about actual dictionary use"
Quota
30 (in-person)
Language
English
Admission
Free
Pre-registration
Pre-registration is required. If you would like to attend the forum, please and fill out the application form by 12:00 p.m. (JST) on 1 March (Wed.).
Jointly Organized by
Tokyo African Linguistics Knot (TALK)

ILCAA Core Project "Description and Documentation of Language Dynamics in Asia and Africa: Toward a More In-depth Understanding of the Languages and Cultures of People Living in Asia and Africa"  (DDDLing)

Kanto Branch of Japan Association for African Studies

Institute of Language Research, TUFS
General Inquiries
Institute of Language Research, TUFS
E-mail: ilr419[at]tufs.ac.jp (Please replace [at] with @)
(Posted 23 February, 2023)
(Updated 6 March, 2023)
Tokyo African Linguistics Knot: The 21st meeting