Activities
Date:2019.10.23[Wed]
Training Workshops / Techinical Workshops
Event already held
Technical Workshop "Text editors for editing documents: various uses of find and replace"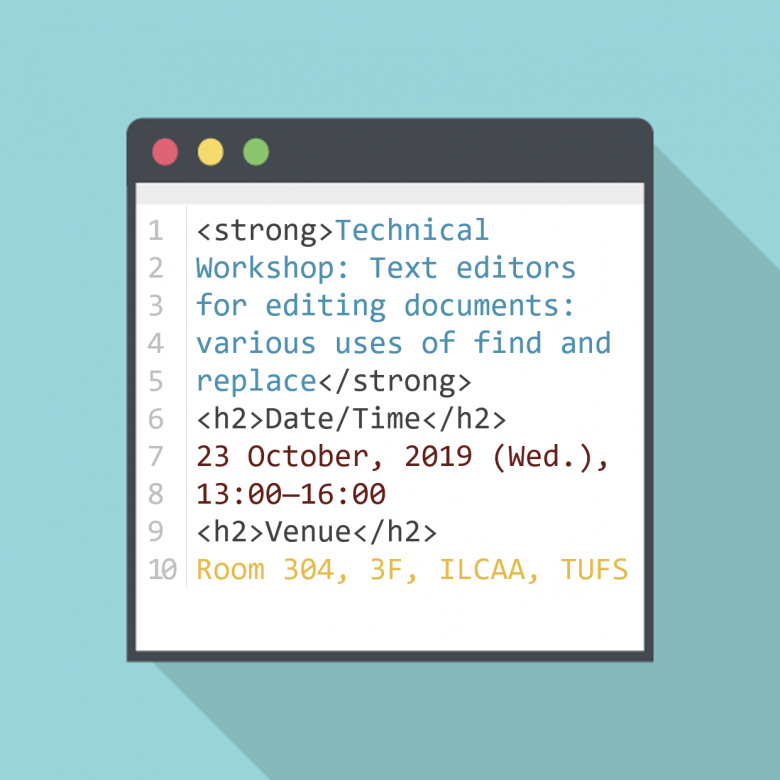 *This event has already been held.
Date/Time
23 October, 2019 (Wed.), 13:00–16:00
Venue
Room 304, 3F, ILCAA, TUFS
Lecturer
Hideo SAWADA (ILCAA)
Program
What is a text file?
Basic operations of Microsoft Visual Studio Code
Find/replace/find in files
Regular expressions
Uses of find and replace
Entry Qualifications
Students or Researchers of linguistics or related research area
Quota
15
Language
Japanese
Admission
Free
Pre-registration
Pre-registration is required. For details, please see here(in Japanese).
Please install Visual Studio Code (VSCode) in advance, using the information below.
The installation manual for Windows OS (in Japanese)
The installation manual for Mac OS (in Japanese)
Jointly Organized by
Core Project "Linguistic Dynamics Science3 (LingDy3)", ILCAA, TUFS
Information Resources Center (IRC), ILCAA, TUFS
Application
*Application has been closed.
If you would like to attend the workshop, please fill out the application form below by 12:00 p.m., 22 October (Tue.). (Application will be closed as soon as the workshop reaches its capacity.)
Technical Workshop "Text editors for editing documents: various uses of find and replace"