Activities
Date:2019.07.10[Wed]
Training Workshops / Techinical Workshops
Event already held
Technical workshop: "How to design an effective research poster"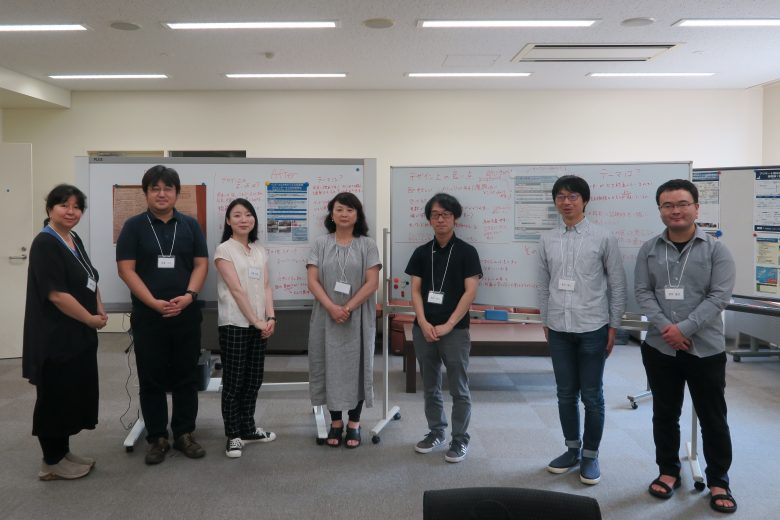 *This event has already been held.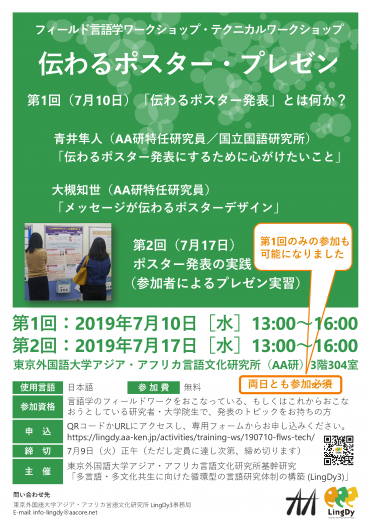 ILCAA offers various workshops on field linguistics aimed mainly at junior researchers such as graduate students and post-doctoral researchers. The workshops aim to offer lectures and training that are useful for documenting and describing under-studied and under-documented languages.
*If you would like to attend the workshop, please fill out the application form below by 12:00 p.m., 9 July (Tue.).
Date/Time
10 July, 2019 (Wed.), 13:00–16:00
17 July, 2019 (Wed.), 13:00–16:00
*If you attend this workshop, you would be required to attend both days.
*We would welcome even only the first day's participation. (as of 5 July)

Venue
Room 304, 3F, ILCAA, TUFS
Speakers
Hayato AOI (ILCAA Research Associate)
Tomoyo OTSUKI (ILCAA Research Associate)
Main Topics
In this workshop, we think what a "good" poster presentation is. Recently, many academic conferences on linguistics include poster presentations in their program. However, we can get little information on the research poster such as what to be prepared, how to design it, or how to present effectively. In this workshop, we will discuss about them, and each participant will create each poster during the workshop.
1st day 10 July (Wed.)
2nd day 17 July (Wed.)
Practice presentation with participants' posters
Organizer: Hayato AOI (ILCAA/NINJAL), Tomoyo OTSUKI (ILCAA)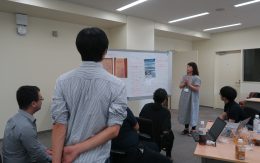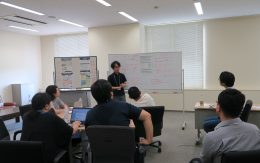 Language
Japanese
Admission
Free
Pre-registration
Pre-registration is required.
Please see here (in Japanese).
Sponsored by
Core Project "Linguistic Dynamics Science3 (LingDy3)", ILCAA, TUFS
General Inquiries
LingDy3 Project Administrative Office
E-mail: info-lingdy[at]aacore.net (Please replace [at] with @)
Application
*Application has been closed.
If you would like to attend the workshop, please fill out the application form below by 12:00 p.m., 9 July (Tue.).
*Please write the topic of your presentation in the column "Others"
Technical workshop: "How to design an effective research poster"