Activities
Date:2020.09.05[Sat]
Research Meetings and Symposia / Others
Event already held
Follow-up meeting on ILC 2019 (Jinghpaw) /The 2nd meeting on Kachin studies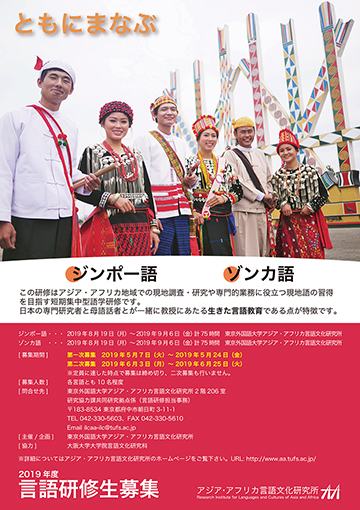 *This event has already been held.
Date/Time
5 September, 2020 (Sat.), 14:00–17:10
Venue
Online Meeting
Program
14:00-14:30
Makoto KATAOKA
"On narrative motifs in one version of ""Hkai Gam hte Hkai Naw"" stories""
14:30-15:00
Masao IMAMURA (Yamagata University)
"Jinghpaw-Kachin in three countries: Towards a comparative study"
15:00-15:30
Roi Sawm SUMLUT (Graduate School, International Christian University)
"A study of the relationships among the six Kachin tribes"
15:40-16:10
Keisuke HUZIWARA (Kyoto University)
"Kadu and Ganan in Kachin State"
16:10-16:40
Moeno KIUCHI (Graduate School, University of Essex)
"The current situation of Kachin IDPs"
16:40-17:10
Keita KURABE (ILCAA)
"Toward community-based Kachin research"
Language
Japanese
Pre-registration
Pre-registration is required. Please email us by 13:00, 5 September (Sat.).
kurabe[at]aa.tufs.ac.jp
(Please replace [at] with @)
Jointly Organized by
ILCAA, TUFS
Core Project "Linguistic Dynamics Science3 (LingDy3)", ILCAA, TUFS
General Inquiries
LingDy3 Project Administrative Office
E-mail: info-lingdy[at]aacore.net (Please replace [at] with @)
Follow-up meeting on ILC 2019 (Jinghpaw) /The 2nd meeting on Kachin studies