Activities
Date:2020.08.29[Sat]
Research Meetings and Symposia / Joint Research Project Meetings
Event already held
A Typological Study of the Areal Lexicon of Mainland Southeast Asia: The 3rd meeting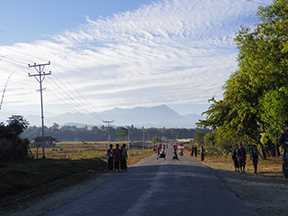 *This event has already been held.
Date/Time
29 August, 2020 (Sat.), 13:30–17:10
Venue
Online Meeting
Program
13:30-15:00
Kosei OTSUKA (ILCAA Joint Researcher, Osaka University)
"Lexical typological aspects of Kuki-Chin languages"
15:10-16:40
Aika TOMITA (ILCAA Joint Researcher, Osaka Shoin Women's University)
"The lexicon of Tai Lue"
16:40-17:00
All members
"Discussion"
Language
Japanese
Pre-registration
Pre-registration is required. Please email us by 12:30, 29 August (Sat.).
kurabe[at]aa.tufs.ac.jp
(Please replace [at] with @)
Sponsored by
Core Project "Linguistic Dynamics Science3 (LingDy3)", ILCAA, TUFS
General Inquiries
LingDy3 Project Administrative Office
E-mail: info-lingdy[at]aacore.net (Please replace [at] with @)
A Typological Study of the Areal Lexicon of Mainland Southeast Asia: The 3rd meeting