お知らせNews
SEALS29: The 29th meeting of Southeast Asian Linguistics Society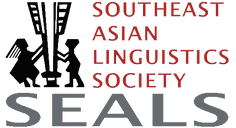 *This event has already been held. For details, please also see here.
*For the latest information, please check the official page.
The Southeast Asian Linguistics Society is formed for the purpose of facilitating and promoting contact and communication among scholars and students of Southeast Asian Linguistics, and for the dissemination of their scholarly works. It holds international meetings annually to provide reasonable opportunity for scholars and students from Southeast Asia to participate.
The 29th Meeting of the Southeast Asian Linguistics Society (SEALS 29) will be held in Tokyo, Japan on 27–29 May 2019. It is hosted by Tokyo University of Foreign Studies and sponsored by the Japan Society for the Promotion of Science and the LingDy3 project (ILCAA, TUFS).
For more detail, please visit here.
*Important dates:
January 31, 2019 – Deadline for abstracts
February 28, 2019 – Notification of acceptance
March 15, 2019 – Start of registration (April 11, 2019 updated)
April 15, 2019 – End of registration (April 11, 2019 updated)
Date/Time
27–29 May, 2019 (Mon.–Wed.)
Venue
KFC Hall & Rooms
1-6-1 Yokoami, Sumida, Tokyo, Japan
Keynote speakers
Alexander COUPE (Nanyang Technological University)
Hsiu-chuan LIAO (National Tsing Hua University)

Sumittra SURARATDECHA (Mahidol University)
Hosted by
TUFS
Sponsored by
Core Project "Linguistic Dynamics Science3 (LingDy3)", ILCAA, TUFS
JSPS KAKENHI Grant Numbers 17H02331, 17H04523, 18H05219, 18K12366
(Posted 3 December, 2018)
(Updated 10 April, 2019)
(Updated 11 April, 2019)
(Updated 3 June, 2019)
(Updated 4 June, 2019)
(Updated 2 December, 2019)
SEALS29: The 29th meeting of Southeast Asian Linguistics Society