News
TUFS Cinema: Film Screening of "Veins of the World" (Mongolia/Germany)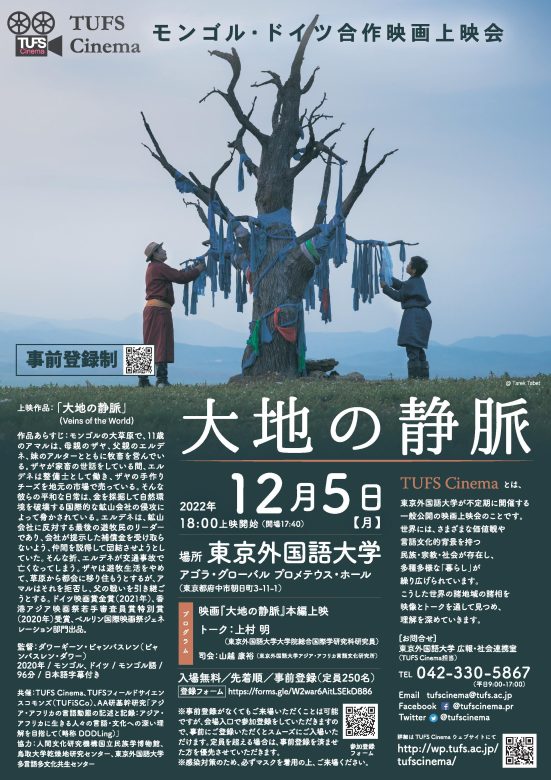 *This event has already been held.
Date/Time
5 December, 2022 (Mon.), 18:00–21:00
Venue
Prometheus Hall, AGORA Global, TUFS
Program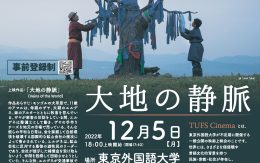 Screening of "Veins of the World"
Akira KAMIMURA (Researcher, TUFS) Talk on Mongolian Cinema
For details, please see here (in Japanese).
Language
Japanese, Mongolian
Admission
Free
Pre-registration
Pre-registration is required. Please fill out the application form here (in Japanese). 
Jointly Sponsored by
TUFS Cinema
TUFS Field Science Commons (TUFiSCo)

Core Project "Description and Documentation of Language Dynamics in Asia and Africa: Toward a More In-depth Understanding of the Languages and Cultures of People Living in Asia and Africa" (DDDLing)
Cooperated with
Center for Intercultural Studies (TUFS)
National Museum of Ethnology (NIHU)
Arid Land Research Center (Tottori University)
(Posted 7 November, 2022)
TUFS Cinema: Film Screening of "Veins of the World" (Mongolia/Germany)