Activities
Date:2022.03.05[Sat]
Training Workshops / Grammar Workshops
Event already held
Grammatical Studies Workshops 21 "Issues in grammaticalisation for language description"
*This event has already been held.
Date/Time
5 March, 2022 (Sat.), 13:00–17:00
Venue
Online Meeting via Zoom
Program
13:00–13:10
Makoto FURUMOTO (ILCAA Research Associate)
Introduction
13:10–13:40
Makoto FURUMOTO (ILCAA Research Associate)
"Traces of grammaticalisation and functional change in Zanzibar dialects of Swahili"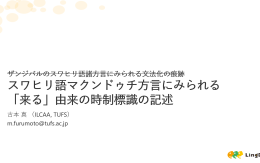 13:40–14:10
So MIYAGAWA (Kyoto University)
"Grammaticalization of conjunctions from verbs in Egyptian-Coptic"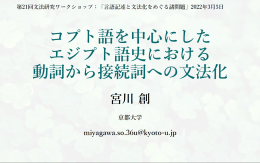 14:10–14:40
Aoi GEKA (Graduate Scool, Kyoto University/JSPS/Inner Mongolia University)
"Grammaticalization of the second person possessive clitic in Mongolian"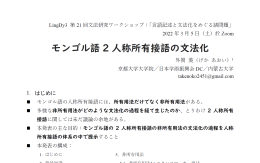 14:40–15:00
Break
15:00–15:30
Rihito SHIRATA (Hiroshima University)
"Grammaticalization in Kikai Ryukyuan: With a focus on sentence-final interrogative forms"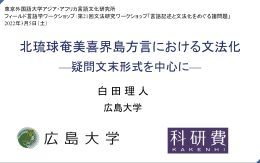 15:30–16:00
Shinsuke HIDAKA (NINJAL)
"Differences in auxiliary verb structures with yot- 'lie down' in Uzbek"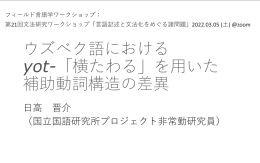 16:00–16:30
Keita KURABE (ILCAA)
"Gradualness of change: Grammaticalization of Jinghpaw verbs"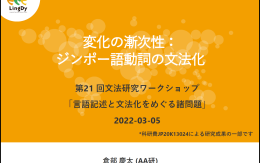 16:30–17:00
All participants
Discussion
Entry Qualifications
Graduate students or Researchers of linguistics or related research area
Quota
20
Language
Japanese
Admission
Free
Pre-registration
Pre-registration is required. For details, please see here(in Japanese).
Sponsored by
Core Project "Linguistic Dynamics Science3 (LingDy3)", ILCAA, TUFS
Application
Please fill out the application form below by 12:00 p.m. (JST), 28 February (Mon.). (Application will be closed as soon as the workshop reaches its capacity.)
Zoom meeting invitation will be sent 1 hour prior to the start of the workshop.
Grammatical Studies Workshops 21 "Issues in grammaticalisation for language description"