Activities
Date:2020.10.17[Sat]- 10.18[Sun]
Training Workshops / Grammar Workshops
Event already held
Grammatical Studies Workshops 18: "Issues in syllable structure"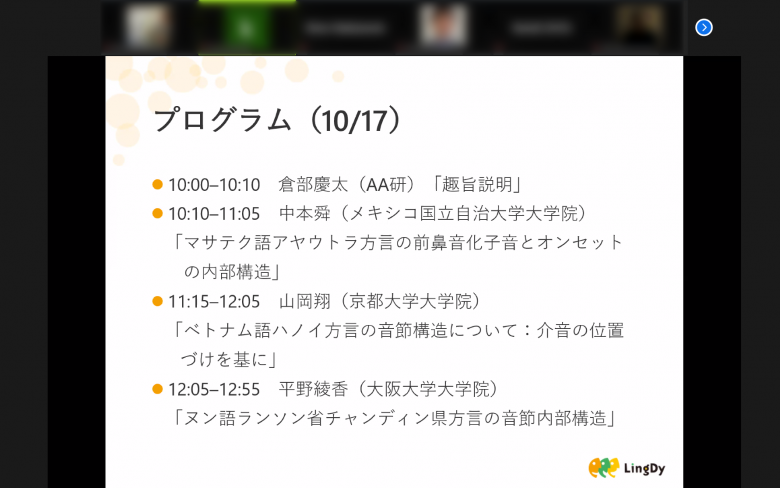 *This event has already been held.
Date/Time
17 October, 2020 (Sat.), 10:00–13:00
18 October, 2020 (Sun.), 10:00–13:00
Venue
Online Meeting via Zoom
Program
17 October (Sat.)
10:00–10:10
Keita KURABE (ILCAA)
Introduction
10:10–11:00
Shun NAKAMOTO (Graduate School, Universidad Nacional Autónoma de México)
"Prenasalized consonants and the internal structure of the onset in Ayautla Mazatec"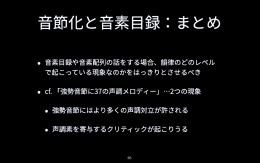 11:10–12:00
Sho YAMAOKA (Graduate School, Kyoto University)
"The syllable structure of Hanoi Vietnamese: Based on the position of medials"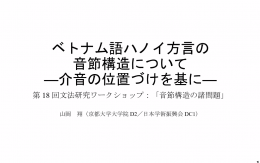 12:00–12:50
Ayaka HIRANO (Graduate School, Osaka University)
"Syllable internal structure of Nung in Trang Dinh district of Lang Son province"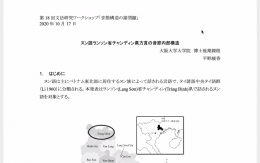 18 October (Sun.)
10:00–10:50
Kanji KATO (Graduate School, Tokyo University of Foreign Studies)
"Syllable, accent, and laryngeal consonant in Tokunoshima Amami"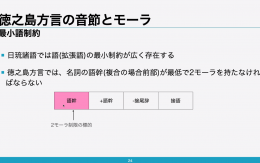 10:50–11:40
Ryuichi TAKI (Graduate School, The University of Tokyo)
"Syllable structure in the Uchinoura dialect of Kagoshima Japanese"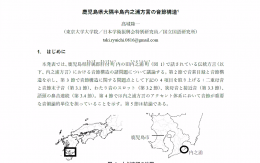 11:50–12:40
Misato SHIMIZU (Graduate School, Osaka University)
"Syllable structure in the Yaw dialect of Burmese"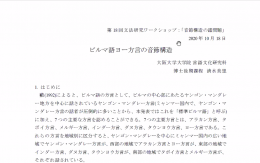 12:40–13:00
All members
Discussion
Entry Qualifications
Graduate students or Researchers of linguistics or related research area
Quota
20
Language
Japanese
Admission
Free
Pre-registration
Pre-registration is required. For details, please see here (in Japanese).
Sponsored by
Core Project "Linguistic Dynamics Science3 (LingDy3)", ILCAA, TUFS
Application
*Application has been closed.
Please fill out the application form below by 12:00 p.m. (JST), 16 October (Fri.). (Application will be closed as soon as the workshop reaches its capacity.)
Zoom meeting invitation will be sent 1 hour prior to the start of the forum.
Grammatical Studies Workshops 18: "Issues in syllable structure"