Activities
Date:2020.02.26[Wed]- 02.28[Fri]
Training Workshops / Other Activities
Registration required
【Reaching the capacity】Field Linguistics Workshop:"Spring Field Linguistics Festa"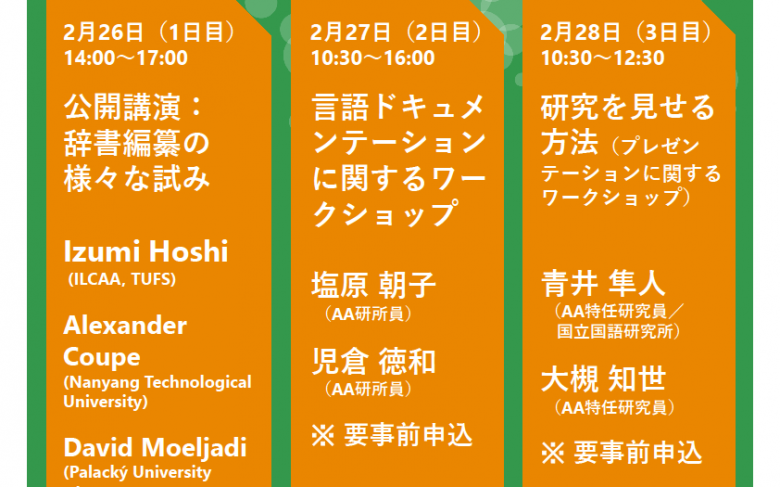 If you would like to attend the workshop, please fill out the application form below by 10:00 a.m., 25 February (Tue.). (Application will be closed as soon as the workshop reaches its capacity.)
Date/Time
26 February, 2020 (Wed.), 14:00–17:00
27 February, 2020 (Thu.), 10:30–16:00
28 February, 2020 (Fri.), 10:30–16:00
Venue
Room 304, 3F, ILCAA, TUFS
Program
26 Feb (the first day)
Public lecture "Various attempts for dictionary compilation" : 14:00–17:00
(Open to public, No registration is needed)
14:00–14:10
Opening
14:10–15:00
Izumi HOSHI (ILCAA Director)
"Building a Thesaurus of Cultural Vocabulary Collaboratively: In Case of a Dictionary of Tibetan Pastoralism"
15:10–16:00
Alexander COUPE (NTU)
"On creating dictionaries for unwritten languages: fieldwork methodologies for community-based dictionary workshops"
16:10–17:00
David MOELJADI (Palacký University Olomouc)
"Building and Developing the Kamus Besar Bahasa Indonesia (KBBI) Indonesian Dictionary Database"
27 Feb (the second day)
Workshop on language documentation : 10:30–16:00
(Pre-registration is required. See here for the details (in Japanese))
10:30–11:15
Asako SHIOHARA (ILCAA)
"Principle and practice of language documentation" (lecture)
11:15–12:00
Kogura NORIKAZU (ILCAA)
"How to make good recordings" (lecture and hands-on session)
13:00–14:30
Kogura NORIKAZU (ILCAA)
"How to mangage "Data management for field linguistics" (lecture and hands-on session)
14:45–16:00
Asako SHIOHARA (ILCAA)
"How to use Elan, a data annotation software" (lecture and hands-on session)
28 Feb (the third day)
Workshop on Methods to visualize your research : 10:30–12:30
(Pre-registration is required. See here for the details(in Japanese))
10:30–11:00
Hayato AOI (ILCAA)
"Three questions to design better slides "
11:00–12:30
Tomoyo OTSUKI (ILCAA)
"Creating more effective visual presentations"
Spring Inter-University Seminar : 13:30–16:00
(Closed session)
For more details, please see here (in Japanese).
Entry Qualifications
Graduate students or Researchers of linguistics or related research area
Quota
10
Language
English (26 Feb), Japanese (27–28 Feb)
Admission
Free
Pre-registration
*Registration will be closed upon reaching the capacity. 
Pre-registration is required for 2nd and 3rd day. For details, please see here (in Japanese).
Sponsored by
Core Project "Linguistic Dynamics Science3 (LingDy3)", ILCAA, TUFS
General Inquiries
LingDy3 Project Administrative Office
E-mail: info-lingdy[at]aacore.net (Please replace [at] with @)
Application
Please fill out the application form below by 10:00 a.m., 25 February (Tue.). (Application will be closed as soon as the workshop reaches its capacity.)
Please let us know your special field, the OS (Win/Mac) you use, its version, and the dates you would like to apply for, by filling the item "others".
【Reaching the capacity】Field Linguistics Workshop:"Spring Field Linguistics Festa"