Activities
Date:2018.12.12[Wed]- 2019.02.15[Fri]
Training Workshops / Techinical Workshops
Event already held
Course of workshop on "software for documentary linguistics"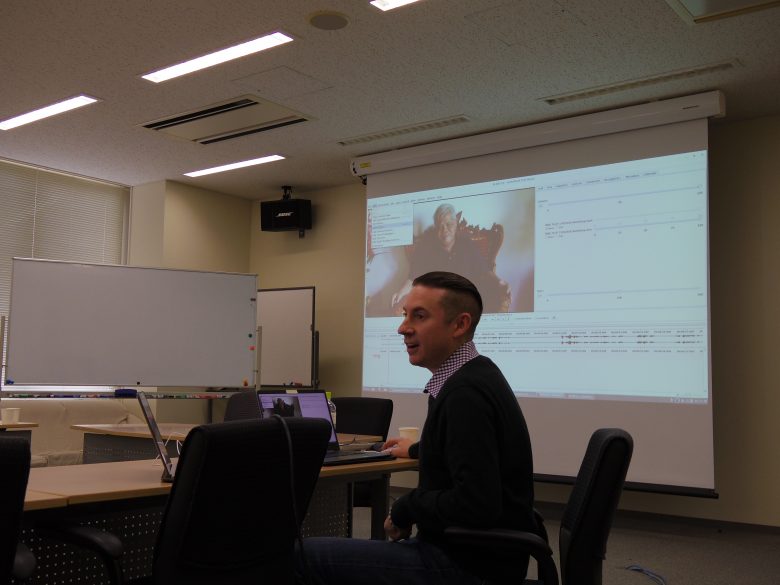 This course of workshops aims to provide researchers and students with basic knowledge relating to two software programs which are used in the documentation and description process of lesser-studied languages.
*If you would like to attend the workshop, please fill out the application form below.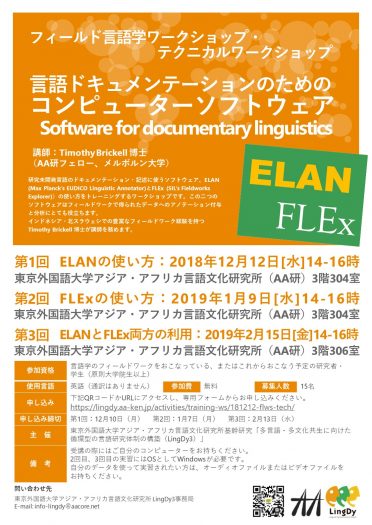 Date/Time
1st workshop: 12 December, 2018 (Wed.) 14:00–16:00
2nd workshop: 9 January, 2019 (Wed.) 14:00–16:00
3rd workshop: 15 February, 2019 (Fri.) 14:00–16:00
Venue
1st and 2nd workshop: Room 304, 3F, ILCAA, TUFS
3rd workshop: Room 306, 3F, ILCAA, TUFS
Lecturer
Timothy BRICKELL (ILCAA Fellow, The University of Melbourne )
Program
For details, please see here
1st workshop     *Already held
ELAN
2nd workshop    *Already held
FLEx
3rd workshop    *Already held
Using ELAN and FLEx together.
Quota
Up to 15 participants for each workshop
Language
English
Admission
Free
Sponsored by
Core Project "Linguistic Dynamics Science3" (LingDy3), ILCAA, TUFS
General Inquiries
LingDy3 Project Administrative Office
E-mail: info-lingdy[at]aacore.net (Please replace [at] with @)
Application
Please see here and fill out the application form below. Deadlines are;

1st workshop: 10 December, 2018
2nd workshop: 7 January, 2019
3rd workshop: 13 February, 2019
Application will be closed as soon as each workshop reaches its capacity.
Participants are required to bring their own laptop and are encouraged to bring their own linguistic data.
For the first two workshops no knowledge of either program is necessary. The third workshop requires some knowledge of ELAN and FLEx.
Please note that the FLEx workshops are only available to attendees whose laptops are running the Microsoft Windows operating system.
*Please make sure to write down which workshop you want to join in the remarks column.
(ex. "all workshops", "the first and second workshops", "the second workshop")
Course of workshop on "software for documentary linguistics"