Activities
Date:2022.03.08[Tue]
Research Meetings and Symposia / Joint Research Project Meetings
Event already held
Exploration into the Mechanism of Language Change and Variation through the Dialogue between Theoretical Linguistics, Linguistic Typology, and Quantitative Linguistics: The 5th meeting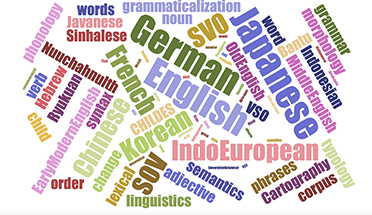 *This event has already been held.
Date/Time
8 March, 2022 (Tue.), 10:20–17:05
Venue
Online Meeting
Program
Six members in this project are going to make their own presentation for 35 minutes, which are followed by respective Q&A sessions for 15 minutes.
10:25–11:15
Yasuaki ISHIZAKI (ILCAA Joint Researcher, Nanzan University) "On the Locative Alternation in Late Modern English"
11:20–12:10
Masako MAEDA (ILCAA Joint Researcher)
"On the Syntactic Properties and Language Change of Ga/No-Nominative Conversion in the Hichiku Dialect"
13:10–14:00
Nobuko YONEDA (ILCAA Joint Researcher, Osaka University)
"Microvariation in subject properties across Bantu languages"
14:05–14:55
Koji SUGISAKI (ILCAA Joint Researcher, Mie University)
"UG and Child Language Acquisition: A Case Study on Wh-infinitives in Child English"
15:15–16:05
Hisao TOKIZAKI (ILCAA Joint Researcher, Sapporo University)
"Linguistic Atlas and Linguistic Theory: Linguistic Atlas of Asia and WALS"
16:10–17:00
Hideki KISHIMOTO (ILCAA Joint Researcher, Kobe University)
"On contractions in auxiliary verb constructions"
Language
Japanese
Admission
Free
Pre-registration
Pre-registration is required. If you would like to attend the forum, please see here(in Japanese) and fill out the application form.
Jointly Sponsored by
Core Project "Linguistic Dynamics Science3 (LingDy3)", ILCAA, TUFS

Linguistic Change and Variation Research Unit, GSIS, Tohoku University
Exploration into the Mechanism of Language Change and Variation through the Dialogue between Theoretical Linguistics, Linguistic Typology, and Quantitative Linguistics: The 5th meeting