Activities
Date:2021.09.05[Sun]- 09.06[Mon]
Research Meetings and Symposia / Joint Research Project Meetings
Event already held
Exploration into the Mechanism of Language Change and Variation through the Dialogue between Theoretical Linguistics, Linguistic Typology, and Quantitative Linguistics: The 3rd meeting/ The seventh workshop of the Linguistic Change and Variation Research Unit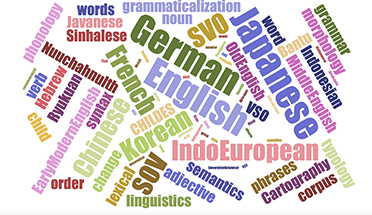 *This event has already been held.
This event is cosponsored by the Linguistic Change and Variation Research Unit, based in Graduate School of Information Sciences, Tohoku University. We will hold a two-day workshop in which 10 members of the collaborative project "Exploration into the Mechanism of Language Change and Variation through the Dialogue between Theoretical Linguistics, Linguistic Typology, and Quantitative Linguistics" will make their presentations. The meeting will be open for general audience, with the expectation of participation of a large number of audience from multiple fields and active discussion between them and the speakers.
Date/Time
5 September, 2021 (Sun.), 13:00–17:50
6 September, 2021 (Mon.), 10:10–15:45
Venue
Online Meeting
Program
For the program, please visit here.
Language
Japanese
Pre-registration
Pre-registration is required. For details, please see here (in Japanese).
Jointly Sponsored by
Linguistic Change and Variation Research Unit, GSIS, Tohoku University

ILCAA Joint research Project "Exploration into the Mechanism of Language Change and Variation through the Dialogue between Theoretical Linguistics, Linguistic Typology, and Quantitative Linguistics"

Core Project "Linguistic Dynamics Science3 (LingDy3)", ILCAA, TUFS
Exploration into the Mechanism of Language Change and Variation through the Dialogue between Theoretical Linguistics, Linguistic Typology, and Quantitative Linguistics: The 3rd meeting/ The seventh workshop of the Linguistic Change and Variation Research Unit