Activities
Date:2020.08.22[Sat]
Research Meetings and Symposia / Others
Event already held
Follow-up meeting on ILC 2019 (Jinghpaw) /The 1st meeting on Kachin studies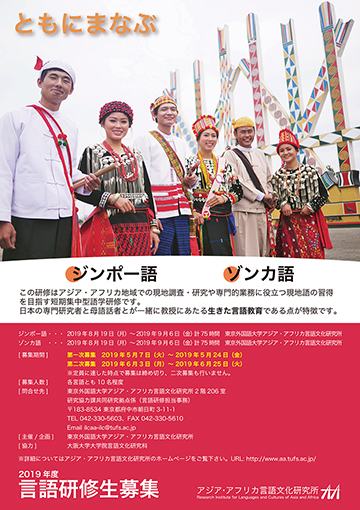 *This event has already been held.
Date/Time
22 August, 2020 (Sat.), 14:00–17:10
Venue
Online Meeting
Program
14:00-14:30
Hinano SHIMOZATO
"My first trip to Kachin State"
14:30-15:00
Yuanzong ZHANG (TUFS)
"Pela and Jingpho"
15:00-15:30
Lu Aung
"A field report on Kachin culture"
15:40-16:10
Nana SUZUKI
"A report on the Yamagata University's Kachin Study Tour"
16:10-16:40
Takenori MURAKAMI (Kyoto University)
"Singphos in Upper Assam from the colonial records"
16:40-17:10
Toshio TOYAMA
"The command-response model in acoustics and the Jinghpaw tonology"
Language
Japanese
Pre-registration
Pre-registration is required. Please email us by 13:00, 22 August (Sat.).
kurabe[at]aa.tufs.ac.jp
(Please replace [at] with @)
Jointly Organized by
ILCAA, TUFS
Core Project "Linguistic Dynamics Science3 (LingDy3)", ILCAA, TUFS
General Inquiries
LingDy3 Project Administrative Office
E-mail: info-lingdy[at]aacore.net (Please replace [at] with @)
Follow-up meeting on ILC 2019 (Jinghpaw) /The 1st meeting on Kachin studies