Activities
Date:2020.02.01[Sat]
Research Meetings and Symposia / Joint Research Project Meetings
Event already held
Synchrony and Diachrony of Mongolic Languages: Internal and External Factors: The 4th Meeting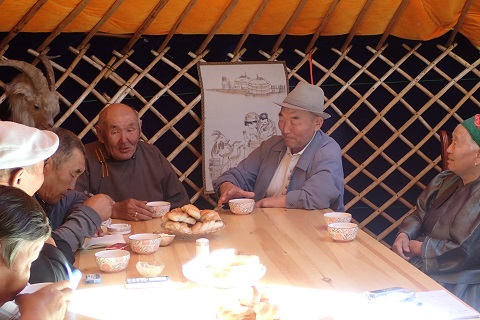 *This event has already been held.
Date/Time
1 February, 2020 (Sat.), 10:00–18:00
Venue
Room 302, 3F, ILCAA, TUFS
Program
Yasuhiro YAMAKOSHI (ILCAA)
Opening Remarks
Nobuharu SATO (ILCAA Joint Researcher, Hiroshima University)
"Event Construal in the Jishishan Bonan Language"
Shigeki SHIOTANI (Osaka University)
"On subjective/objective forms in Minhe Monguor (Mangghuer)"
Shiho EBIHARA (ILCAA Joint Researcher, ILCAA Fellow)
"Latest trend about study on evidentiality in Tibetic languages"
Erika SANDMAN (ILCAA Joint Researcher, University of Helsinki)
"Egophoric marking in interaction in Wutun"
Language
Japanese, English
Admission
Free
Pre-registration
Please send email to Yasuhiro YAMAKOSHI (yamakoshi [at] aa.tufs.ac.jp *Please replace [at] with @) to attend this event.
Jointly Organized by
Core Project "Linguistic Dynamics Science3 (LingDy3)", ILCAA, TUFS
Grant-in-Aid for Scientific Research (A) "Environments and linguistic change in the Altaic languages" (Principal Investigator: Tomoyuki KUBO (Kyushu University), Grant Number 18H03578)
General Inquiries
LingDy3 Project Administrative Office
E-mail: info-lingdy[at]aacore.net (Please replace [at] with @)
Synchrony and Diachrony of Mongolic Languages: Internal and External Factors: The 4th Meeting