Activities
Date:2016.10.02[Sun]
Outreach Events / Others
Event already held
The Intercultural Understanding Programs of Tibetan Culture 2016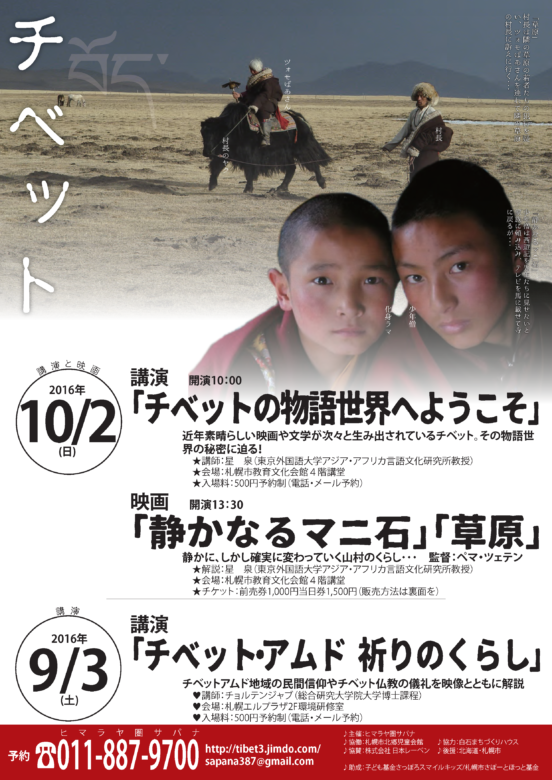 *This event has already been held.
Date/Time
2 October, 2016, 10:00–17:30
Venue
Seminar room, 4F Sapporo Education and Culture Hall
Program
9:45
Room Open
10:00–12:00
Izumi HOSHI (ILCAA)
"Introduction to the world of Tibetan narrative"
12:00–13:00
Lunch break
13:00
Room Open
13:30
Screening of "The Grassland" (Pema Tseden)
14:10
Screening of "The Silent Holly Sotnes" (Pema Tseden)
16:10–17:30
Izumi HOSHI (ILCAA)
"Tibetan Filmmaking and Pema Tseden's works"
Pre-registration
Pre-registration is required.
Language
Japanese
Jointly Sponsored by
SAPANA

Core Project "Linguistic Dynamics Science3 (LingDy3)", ILCAA, TUFS
Under the Auspices of
City of Sapporo, Hokkaido
Supported by
Nihon Leben Co.,Ltd.
Contact
SAPANA
Phone: 011-887-9700
E-mail: sapana387@gmail.com
http://tibet3.jimdo.com/
Flyer (in Japanese)
The Intercultural Understanding Programs of Tibetan Culture 2016